Create data base applications faster with an integrated development environment which is adjusted especially for data base uses.
Extend your application functionality by a matured and tested object-oriented GL.
Connect your application solutions with data base servers.
Simplify the access of your applications to the Internet by the server TUXBASE-WEBAPP.
TUXBASE is a development tool for the operating system LINUX.
With TUXBASE you create big, complicated application programs with minor expenditure of time involved.
You must provide fast and reliably solutions? TUXBASE takes much recurring work from you.
TUXBASE is designed for the development of data base applications.
With TUXBASE you can also carry out independent changes in the programs LXSeries.
Basic
All single sections are encapsulated against each other and are absolutely independent of each other.
Once defined the data base is only existent for you in the background.
The set of rules, as for example upper and lower case, plausibility check and other, is defined by the data base-object-library.
An easy navigation within the of TUXBASE created object-oriented application programs offers the user the possibility to immediately derive from one range of the application to another one.

TUXBASE closes your industry control and validity applications in the data library objects - and it automatically integrates these into the operator interface.

For example, you want to rework an address in an order capture. click on a field of the address and TUXBASE goes directly to the appropriate opened data record of your address.

Tables are connected with your superior data bases within TUXBASE.
Each part of the application is always only one mouse click away.
All components of your application are completely reusable and extendable from the data base up to the complete application.

An easy SQL access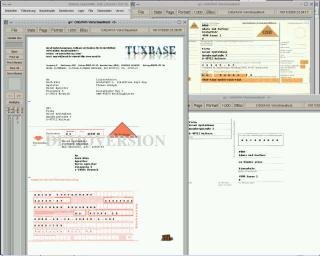 Design and navigation in your user interface have never been so easy.
The easiest way to create and to develop your user interface.

Additional programming efforts are not necessary any more in order to establish the access between the interface controls and your data.

Immediate program navigation
Each part of your application is always only one mouse click away.
Reduce recurring jobs and increase the stability of your applications.

Each component of your application are completely reusable and extendable from the data base via the business conditions up to the complete views.

Absolute control whenever you want.
The TUXBASE library gives you a quick and easy access to the visual and data base-dependent attributes of an entry if the work with a special encoding is ineffective or unnecessary.

An easy SQL access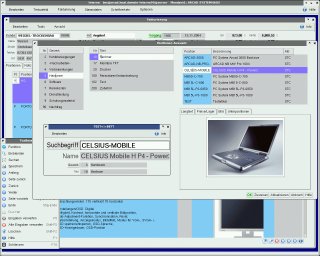 Complete control if you need it.
If you must introduce your application code, the imposing strength of the TUXBASE object-oriented system will immediately place it.

Your term of business and validity applications are closed in the data library objects and are automatically integrated in your operator interface.

Time and budget restrictions will not determine the quality of your applications.

The outstanding highlights of TUXBASE help you to create high quality applications in less time.

Multi-applications including
All applications are multi-user capable which you create in TUXBASE.

WEBAPP Internet link-up
All programs written with TUXBASE can be displayed on the Internet and be used by the TUXBASE-WebApp server.
Besides, you use the identical source which you have also written for the standard graphic interface.

TUXBASE allowes an absolute independent of location use of your application package by the consistent use of the client server principle.
You can build up the SQL server in Germany and run your application package directly in your workplace in France.
TUXBASE is able to do this.
This is the quickest way to use your applications worldwide.

Print and report
Complement your report with impressive background images.
TUXBASE contains a highly competitive library for the comprehensive representation of your lists and reports.

Complicated reports in attractive form are generated in the format PostScript.
Background graphics permit the use of a single central printer for all forms which you want to create for your customer.
Besides, you can use for all purposes standard paper.

The TUXBASE report also produces complicated and nested invoice reports with all desired formattings and intermediate results.

Form headings, company logos, hints and pictures can be generated and be used on any position of the reports.
An absolute decartelization of all printing processes has also succeeded here very well as well as in the whole TUXBASE philosophy and development.
Concentrate yourself on the application and leave the job in the background to TUXBASE.

"The TUXBASE report system is another excellent step.
The new library makes way for all my development needs.
Bernhard Metzger - ARCAD Systemhaus, Germany"
Development of application programs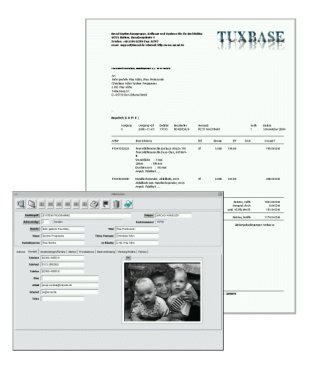 TUXBASE provides a library which summarises once and thoroughly consistently recurring programming work.
This saves you a lot of time, because TUXBASE reduces a big part of the programming work.
TUXBASE uses the programming language ANSI C as a basis as well as an industrial graphical operator interface and a SQL server.
Guaranteed and stable application programs emerge which will immediately persuade you and your customers.

By TUXBASE generated application programs are perfect multiuser capable.
TUXBASE connects the SQL server with the set of rules of your application program.
After an one-time completed definition you must not look after this process any more.

TUXBASE separates single steps from each other and allowes you a clear and comprehensible program structure.
First you define the set of rules of your data base.
Then you establish the menu control.
Afterwards you enter the application control.

Our products LXSeries
Our LX products represent the best software on the market which you can receive for the operating system LINUX.

All our products are multilingual.
All our products use the same data base.
Therefore, all information can be exchanged between all programs and the modules.
This is the base for an absolute multiuser capability.
The LX series is permanently adapted to the newest state of technology.
In addition to the user software we offer other services to achieve the optimum use of software in your company.