With the new version ARCAD the two dimensioning becomes easy.
ARCAD uses a layers-superposed drawing technique.
Holohedral layers can thereby completely cover superordinate drawing parts.
New possibilities arise in the representation for the user.

I. ARCAD 3D CAD wall construction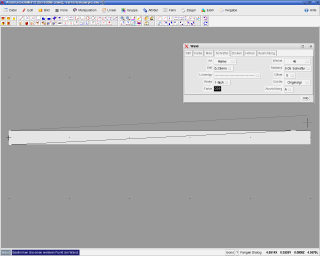 ARCAD signs walls as filled surfaces.
You can apply all attributes on the walls which ARCAD provides also to all other drawing tools.
You can use for your walls the thickness, height, colour, hatching, kinds of line and more.
All subsidiary lines, catch attributes, co-ordinate entries of ARCAD place your wall at the correct place and in the correct thickness.

II. Subsidiary lines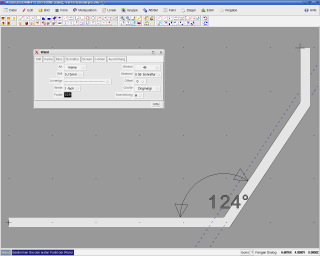 Walls can be drawn single-leaf and additional-leaf.
You can dynamically use the alignment of the wall basis inside, centric, outside and freely determinably.
You see in this picture an angle specification which indicates the angle between two walls.

III. Closed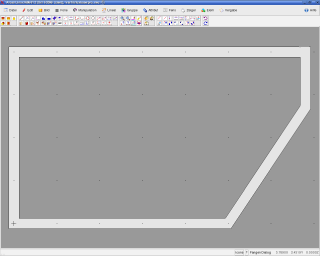 ARCAD connects walls automatically.
If two or several walls clash, the wall sidelines are connected with each other.
You can also let walls clash without connecting them.
Furthermore, you can individually change all wall edges.

IV. Colour selection and hatchings
ARCAD allows a huge number of the attributes which your walls can obtain.
In this picture you see a colour selection which is separately used for the outer edges, for the filling colour and the hatching colour.
You can also preset these colours individually.

V. Window and doors, wall openings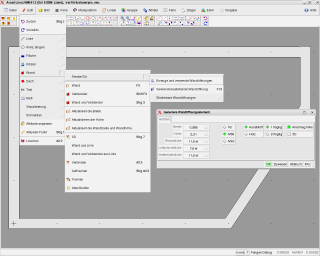 ARCAD generates immediately the suitable wall opening for all wall constructions.
Single-leaf and additional-leaf windows and doors are generated and are available on inquiry to you.
These created openings can even be reworked individually by you.
ARCAD uses transparent colour and background colours in order to perforate an opening into a wall.
Every opening is independent and can be scaled, be moved or be manipulated in every way without any influence regarding the wall.
Openings can also lie on another layer.
With it you can also make the openings immediately visible or removed.
Besides, ARCAD also allows you a partial transparency.
This attribute has particularly an effect on the 3D representation.

VI. A door is placed.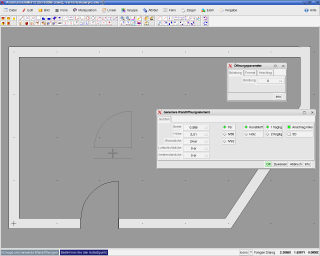 A door is placed above an existing wall.
The underlayed wall is thereby immediately covered.
Your impression is as if a hole had been smashed into the wall.
But:
The door is independent and can always be moved.

VII. A window is placed.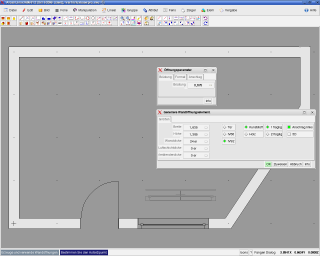 Windows are accordingly placed.
ARCAD draws window in detail and if requested in 3D.
We want to show you In this example the application possibility in 2D.
You want to create a fast building application and will not look after a three-dimensional model.
ARCAD has speeded up in this 2D discipline.

VIII. A manual dimensioning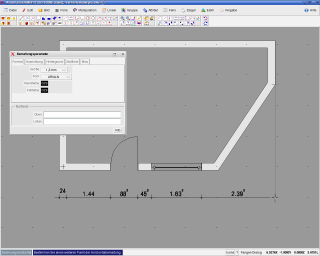 You can lay out a chain dimensioning in the drawing any time.
This chain dimensioning can also be deleted again.
Every dimension can also be added, moved and changed.
You select the size and form of the characters.
It concerns TTF fonts which you can complet.

IX. Additional-leaf walls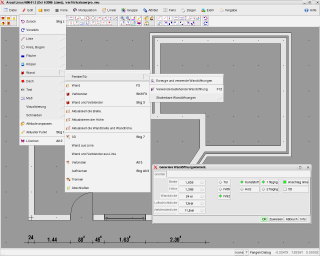 ARCAD operates easily with additional-leaf walls.
ARCAD knows all disciplines and provides you with a very quick and all-round function assortment.
ARCAD knows the mansonry back-up, the insulating layer and the clinker front.
You are able to combine and complete walls with lines and frequency polygons.
ARCAD also uses since the new version filled surfaces.

X. Wall openings in additional-leaf walls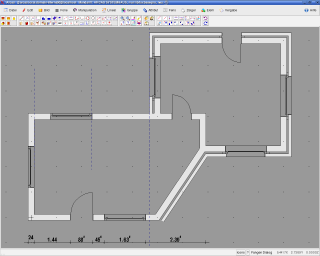 The openings in the walls can be placed horizontally, vertically, diagonally and freely.
Place in single-leaf and additional-leaf walls in absolute quickness and precision.
We can only show you at this point one extract from the variety of capacity of ARCAD.
The transition of 2D to 3D is fluent with ARCAD.
If you change now in the dynamic mode, you can already create a complete model from this drawing.
I have just required only 2 minutes from the first wall up to this view.
Changes in the drawing mean automatic changes regarding the walls and their attributes.

XI. A fully automatic dimensioning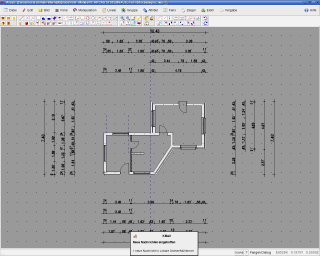 ARCAD creates on mouse click a comprehensive dimensioning of the drawing.
Besides, the program examines the drawing and tries to set up a dimensioning grid pattern according to the depth of the drawing.
Outer walls and inner walls are distinguished and are sorted inside.
All sections of the walls with the superordinate wall openings are found, sorted and displayed accordingly.
All entries of the chain dimensionings can be deleted, added and reworked.

XII. Plot on paper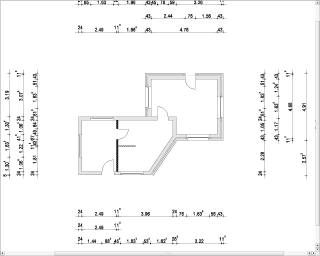 ARCAD displays at last the drawing on a printer or a large format plotter.
You see in this picture a small extract which has been done as a display photo by the Acrobat Reader.
The new technique of ARCAD to work with layers spaced one above the other in combination with wall openings generates a perfect printout and plot.