ARCAD Systemhaus
We realise software projects for international corporate groups, medium-sized companies, for organisations and institutions.
We offer to our clients special know-how which is continuously upgraded since 1983.
This know-how is the basis for a successful software development.
Beside our main product ARCAD, the program for architects since 1989, we have divided our competence into further fields.

Partnership
We develop the programs for financial accounting and ERP in close contact with our clients.
In addition, the development system TUXBASE was created to guarantee a quick and stable software development under the operating system LINUX.
All our programs offer a profound programming, effective work and creative solutions.

Actual
Our programs are working in many industries absolutely reliably around the clock.
1983
The company ARCAD Systemhaus is founded and receives the contract to create a comprehensive software for the building industry.
1984
The company ARCAD Systemhaus receives the contract to create a continuing software for a general business venture.
This software receives the name ARCHITEC and is promoted.
1987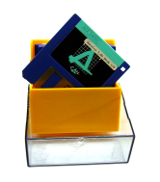 The company TSL (Technical Software Luxembourg) is founded in Luxembourg as a subsidiary of the company ARBED S.a.r.l with a capital of 4 million DM.
The target is to market the program ARCHITEC in Europe.
The program CAN is developed.
This package consists of the AVA program ARCHITEC and the CAD software ARC +.
The functions range from the planning up to final account.
1989
The ARCAD Systemhaus develops under the operating system DOS its own CAD software.
This program receives the name ARCAD.
This development allows a direct integration of the AVA software ARCHITEC into the operator interface of the CAD.
1996
The ARCAD Systemhaus introduces the worldwide first CAD software and AVA software under the operating system LINUX on the trade fair ACS in Wiesbaden.
Against the general opinion that LINUX has no future, the ARCAD Systemhaus continues the development of its own products under this operating system.
A continuous advancement is carried out since then.
1998
The ARCAD Systemhaus degenerates a school version from the ARCAD CAD software.
This version should serve the study and the general training.
This version receives the name ARCAD CAMPUS and is offered for a favorable price.
2000
Because of the market demands for further software, software is developed for the financial accounting and order processing and ERP.These two products are named LXAUFTRAG and LXFibu.
Another target is to carry out this development fast and reliable.
Therefore, the development system TUXBASE is created in addition.
2001
After completion of the financial accounting LXFibu and the ERP LXAUFTRAG the employees of the ARCAD Systemhaus begin with the development of QUBAY INTERNET SYSTEM COMMERCE.
2002
Continuing maintenance of the products and continuing marketing of the products.
2003
The ARCAD Systemhaus begins with a distribution activity on the international market.